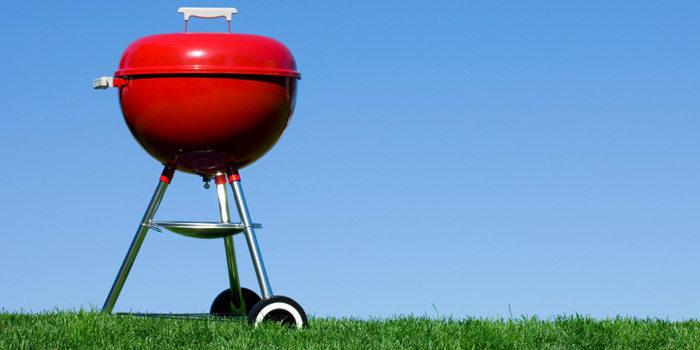 Healthy Barbecue Options
As the July 4th festivities approach, it's time for the traditional backyard barbecue. Can you enjoy a barbecue without eating a lot of foods your body really doesn't want? You can, easily. Just follow these tips.
Healthy Options as a Guest
You're invited to a barbecue. Of course, you don't want to be rude by rejecting the food. What now?
If it's a potluck party, bring something healthy you know everyone will like. Vegetables aren't usually seen much at a barbecue, so a big tossed salad,

a bean salad,

a big bowl of melon cubes with grapes, or an avocado salad with tomatoes would be good ideas.

Enjoy the burger,

but

skip the bun and the sugary condiments, like sweet relish and ketchup.

Skip the hot dog

s, or to put it another way, skip the tube of

processed

meat dregs, salt, and chemicals

held together with fillers

.

Eat the grilled chicken, but remove the skin (and the barbecue sauce) first.

Cole slaw and potato salad are OK in small quantities. Stay away from the macaroni salad.

No baked beans. One cup has 55 carb grams and over 1,000 mg of sodium.

If there's watermelon, go for it! It's a great source of the antioxidant lycopene. And because watermelon is 91 percent water, you'll stay hydrated in the summer weather.

Stick to water, unsweetened ice tea, or maybe a wine spritzer to drink.
Healthy Hosting
If you're the one throwing the barbecue, you have a lot more control over what to serve.
Burgers made from grass-fed beef are very lean and can dry out easily. Avoid this by mixing a grated onion in with the meat and then forming patties about an inch thick.

Don't press on them as they cook.

Top with salsa and avocado slices.

To give grilled meats flavor, use a marinade or rub instead of barbecue sauce.

I

t's not officially July 4

th

unless you eat a hot dog. Choose organic, uncured hot dogs made with pastured beef.

Corn on the cob makes it officially summer. Husk the corn and lay it on a very hot grill, turning occasionally, until lightly

browned and a little

charred, about 10 minutes.

Grill the veggies.

Lightly char a

split head of romaine lettuce or some cabbage wedges

; top with a garlicky vinaigrette.

Cut vegetables such as peppers and zucchini into chunks, marinate them in lemon juice and herbs, and thread them onto skewers for grilling.

Brush with olive oil 

just before cooking to keep them from drying out.

Grill a skewer of cherry tomatoes.

Parboil sweet potato wedges, brush lightly with olive oil, and grill until lightly charred, about 3 minutes. Serve with a sprinkle of sea salt.
To keep foods from sticking to the grill,

don't use oil sprays. C

ut an onion in half and rub the cut side on the

heated

grill

.

Fruit on the grill is fabulous. Fresh peaches are the best, but grilled apples are surprisingly good.
Does Barbecued Food Cause Cancer?
Grilling meats (but not veggies or fruit) over high heat can form the carcinogens heterocyclic amine (HCA) and polycyclic aromatic hydrocarbons (PAHs). They're dangerous if you eat them frequently, though exactly how dangerous is debatable. To cut down on the amount of HCA and PAH in grilled meat, do this:
M

arinate it

with

spices such as

rosemary,

thyme, sage, and garlic

.

High temperatures make more HCA and PAH, so turn the grill down to below 325°F, the temperature at which HCAs begin to form. That means slower cooking. To be sure you're reaching

safe

internal temperatures, use a meat thermometer.

Precook the meat in the microwave for two minutes. Discard the juices—they contain the HCAs.
Dr. Robert G. Silverman is a chiropractic doctor and clinical nutritionist and author of, "Inside-Out Health: A Revolutionary Approach to Your Body," (Lioncrest Publishing, 2016), an Amazon No. 1 bestseller in 2016. The ACA Sports Council named Silverman Sports Chiropractor of the Year in 2015. He also maintains a busy private practice as founder of Westchester Integrative Health Center, which specializes in the treatment of joint pain using functional nutrition along with cutting-edge, science-based, nonsurgical approaches. Silverman is a seasoned health and wellness expert on both the speaking circuits and within the media.
Dr. Robert Silverman
, on
June 30, 2017
in
Nutrition