Pre-Order Your Copy of Immune Reboot Now!
December 13, 2022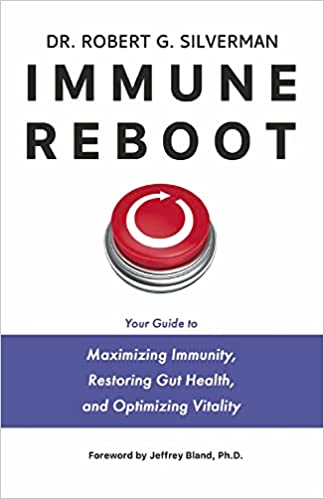 Your immune system is one of the most dynamic and vital systems in your body.
To function optimally, however, it needs your help. Did you know that unhealthy nutrition, lack of sleep, and poor stress management can have a negative impact on the responsiveness of your immune system? Are you taking action through lifestyle changes, food choices, and nutritional supplementation to optimize your immunity?
Bestselling author of Inside-Out Health, Dr. Robert Silverman returns with the everyday guidance you need to boost your immune health. His new book, Immune Reboot, delves into the science behind a properly functioning immune system, and shares evidence-based protocols to help you build better immunity— all in one comprehensive, yet easily digestible guide.
In Immune Reboot, you'll learn:
* How to recalibrate your lifestyle to bolster your immune system.
* Why a healthy gut is essential for a healthy immune system.
* The fundamental supplements for rejuvenating your immunity.
* How to implement a 7(R) Action Plan to restore gut health.
* What autoimmunity is — and how to fend it off.
* Immune strategies and treatment protocols for COVID-19.
* Natural treatments for long-haulers syndrome.
It also includes more than 40 delicious immune-boosting recipes, so you can get started on a path to heightened immunity today!